Tierische Anspannung, in German, can be translated to both the title of this blog entry and the 'operation of a draught animal', as it is commonly used in South Asia, for example in Bangladesh (Mack et al. 1987). Referring to, Bubalus Bubalis, also known as the Asian Water Buffalo, merely as a draught animal would however belie its pivotal role in the development of agriculture at scale and thereby of civilization in this part of the world (van der Geer 2008).
On 9 November 2023 the Police of Central Hesse (Ward of a German Province), dispatched a warning to the public in form of the below meme via X (formerly known as Twitter):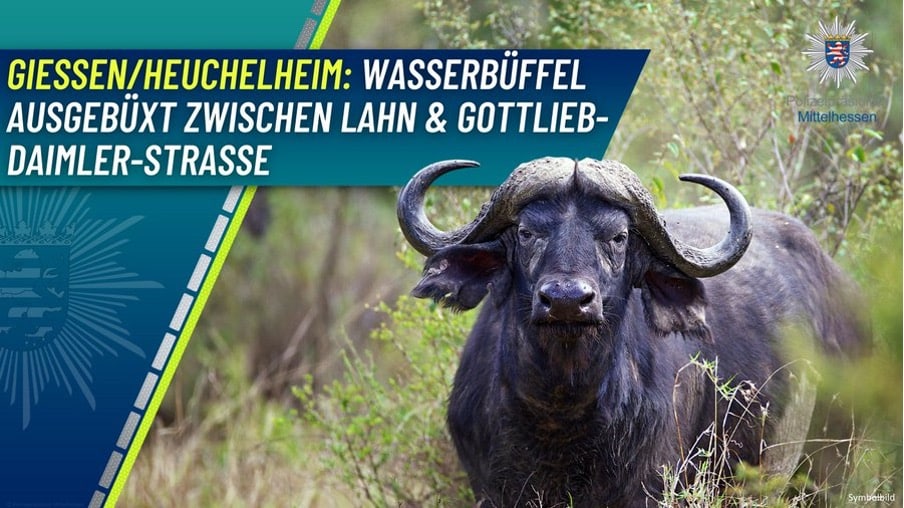 https://www.spiegel.de/panorama/wasserbueffel-in-giessen-entlaufen-polizei-hofft-auf-zeugenhinweise-a-2f5dd2b6-782b-431f-8d5e-79f0b8ce944c?sara_ref=re-so-app-sh
To apt users of research tools such as Wikipedia or Google Images however, the bovine depicted here would have soon revealed itself not as a specimen of the genus Bubalus Bubalis: A rather placid domesticated animal, and with no disrespect, an obedient and hardworking non-human farm labour asset. In stark contrast to this, the ruminant depicted by the service men and women and protectors of the public in Hesse is of the species Syncerus Caffer, or African Buffalo.
As such, the latter specimen has not only been awarded a role in the "Big 5", a title gained from a list of the most prized hunting targets assembled in 19th century Africa (Akama 2004) –no less than the second highest 'score' out of, well 5, after the Panthera Pardus, more commonly known as Leopard. The African Buffalo can indeed, contrary to the ungulate on the loose in the periphery of Giessen, be quite unpleasant in the unexpected presence of humans (https://www.mmegi.bw/news/two-die-in-kasane-buffalo-attacks/news). This should, by no means, undervalue the evidently important ecological role of Syncerus Caffer (Michel 2012)
But unlike another recent case of mistaken identity, or shall we say, non-human racial profiling, (https://www.dw.com/en/lioness-near-berlin-likely-a-wild-boar-police-say/a-66284417), which has yet to be brought to books, this needless stress iterated upon another harmless species did unfortunately not end well for the targeted water buffalos in the Hessian countryside. Instead the proud marksmen of Heuchelheim can now add two specimen of Bubalus Bubalis to their yield (https://www.pirsch.de/news/ungewoehnlicher-abschuss-zwei-wasserbueffel-hessen-geschossen-37901).
References
Akama, J. S. (2004). Neo-colonialism, dependency and external control of Africa's tourism industry. Akama JS Tourism and postcolonialism: Contested discourses, identities and representations. London: Routledge, 140-152.
Mack, R. P., Weniger, J. H., & Teuscher, T. (1987). Untersuchungen über die Arbeitseignung von Zugochsen der lokalen Rasse und F‐1‐Kreuzungstieren in Bangladesh.
Michel, A. L., & Bengis, R. G. (2012): The African buffalo: a villain for inter-species spread of infectious diseases in southern Africa. Onderstepoort Journal of Veterinary Research, 79(2), 26-30.
Van der Geer, A. (2008): Bubalus bubalis, the water buffalo. In Animals in Stone (pp. 150-170). Brill.